Rendisk RC-360 – Robust Pulper System


The Rendisk RC-360 is a very effective solution that reduces your food waste. This food waste solution can be integrated with our sorting system, so it will automatically be separated and transported to this robust pulper system. It has a small footprint, so it's suited to almost every situation.
Easy to use Pulper System for every situation
Waste reduction of up to 80%
Suitable for an extensive range of waste products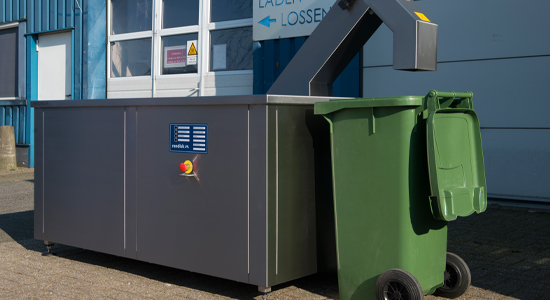 effective Processing of your waste
The combined Rendisk Combi RC-360 reduces your food waste volume by up to 80%, according to the cyclical process. Various food waste from the sorting system is transported through pipes to the compressor. The food is mixed with recycled water. Next, separation of waste and water is realized through pressing in the separator. The water is then recycled and the almost dry waste (20%) is dropped as pulp into a container.



The system is suitable for an extensive range of waste products including:
Organic waste
Inorganic material
Animal/ vegetable
Plastics
Food waste
Disposables
Plastic cutlery

The separator can also be placed remotely from the main sorting operation in another area as an option.


Due to its robust design, the Rendisk RC-360 will always be able to manage your food waste effectively and everyone can use the control panel which is very simple. Cleaning of this pulper system is quick and easy because of its RVS exterior.


So manage your food waste in a very simple but effective manner with: the Rendisk RC-360.
Optimal service and support
We at Metos understand better than anyone that your business has the highest priority and should not be interrupted at any time. That's why our service and maintenance are focused on reinforcing and supporting your core business. Metos trains and supports its own large Rendisk dealer network extensively, and it has branches in all countries where it operates. In short, Metos offers you the security and confidence needed to make the main process run smoothly. So with Metos, help is always near if you need it. Look for the dealer of Rendisk solutions in your country on our dealer page.



OUR OTHER SOLUTIONS
If you want to know more about our other food waste solutions, you can go to our page about waste management.
. Did you know that we also have solutions for any food waste that occurs in your kitchen? And that we can integrate our food waste solutions into your dishwashing area? Go to our page about dish handling to find out how Rendisk solutions can make your kitchen smarter, more efficient and more sustainable.