Rendisk Transfer Eco – Economic Pump System


Rendisk is proud to introduce the "Transfer Eco" food waste management system, which is a cost effective disposal solution to the growing issue that is food waste. It is no longer acceptable to macerate left over food to drain due to the build-up of FOGs (fats, oils and greases) in drain systems and sewers and to tackle this problem, Rendisk is constantly innovating and developing new trends in food waste solutions.
The easy and clean modus to save waste and handling costs
Waste stations with heavy duty grinder
Compact waste station: 0,6 m2
Standard 3,000 or 5,000 Liter storage tank
Transportation pump lenght of up to 30 Meters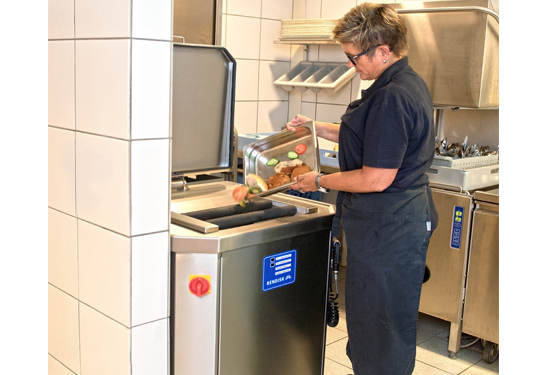 Innovative food waste solution
Rendisk latest product development with the brandname Rendisk comes in the form of a pump based food waste system which is perfectly suited to hotels, restaurants, schools, college, universities, care homes, business and industry and several other sector that require food waste management and handling in the most convenient, efficient and cost effective way possible. By choosing the Transfer Eco system you choose a future proof solution that has been created with ergonomics, hygiene, ecology and innovation in mind.

ECONOMIC PUMP FOOD WASTE SYSTEM
When using the Transfer Eco system food is deposited into a waste station for environmental disposable, ground and transported through 50 mm plastic pipes which are simple and cost effective to install into any new build or existing property. The resulting ground food waste is periodically pumped to a 3,000 of 5,000 Liter PE storage tank, ready for collection by a waste/garbage truck. The resulting waste, once transported away from site can then be used as a biogas to organically produce energy due to its calorific content.


The Transfer Eco is capable of handling all types of food waste thanks to the heavy duty grinder built into all Rendisk waste stations. Bones, seafood shells, coffee and carbohydrates included, no waste separation or double handling is required at all saving time and costs of labour.


Handle your food waste in the most hygienic and economic way: the Rendisk Transfer Eco.
Optimal service and support
We at Rendisk understand better than anyone that your business has the highest priority and should not be interrupted at any time. That's why our service and maintenance are focused on reinforcing and supporting your core business. Rendisk trains and supports its own large Rendisk dealer network extensively, and it has branches in all countries where it operates. In short, Rendisk offers you the security and confidence needed to make the main process run smoothly. So with Rendisk, help is always near if you need it. Look for the dealer of Rendisk solutions in your country on our dealer page.
OUR OTHER solutions
If you want to know more about our other food waste solutions, you can go to our page about waste management.
Did you know that we also have solutions for any food waste that occurs in your kitchen? And that we can integrate our food waste solutions into your dishwashing area? Go to our page about dish handling to find out how Rendisk solutions can make your kitchen smarter, more efficient and more sustainable.