Rendisk

FLEX WASTEDISPO

–

Vacuum Disposal

System Dehydrated

The Rendisk Flex WasteDispo Dehydrated is a vacuum disposal system for organic kitchen waste in restaurants, universities, hospitals, business restaurants, hotels, maritime areas and locations like holiday and entertainment parks. This vacuum disposal system is a new generation kitchen waste management system which greatly reduces the handling and the costs of your kitchen waste.
The environmental friendly kitchen waste management solution
Unique vacuum disposal system
Multiple waste station options
Small footprint, only 2 m2
Unlimited length of transport pipes
No internal manual transport of food waste
Easy to retrofit in existing facilities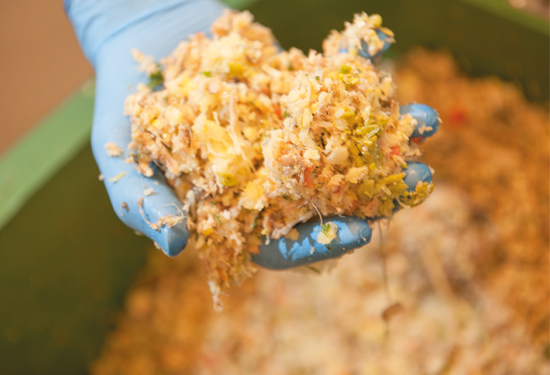 CONVENIENCE SERVES PEOPLE AND ENVIRONMENT
The Flex WasteDispo provides an automatic and hygienic processing of your food leftovers. Multiple waste stations are connected to a single pipe system, perfectly suitable for restaurants and kitchens with multiple floors. Because the waste stations can be integrated in almost any washing and conveying technology, it's not necessary to store the food waste in separate roller containers, not even temporarily. This saves time and space and at the same time offers excellent ergonomics for your coworkers. The food waste is thrown into the waste station(s) where it is ground up. Using a special vacuum technique the food waste is then transported through the pipes to the storage room. As a result there are:
No open buckets or bins of food waste to move around
No unpleasant odours
No flies, vermin or mould spores
The video below explains perfectly how the Rendisk Flex WasteDispo - Dehydrated works:
We can offer you 3 different types of storage, so all may choose the solution that fits their situation best. In this variant Dehydrated, the waste is transported to a dewatering unit. For the other types of storage go to Rendisk Flex WasteDispo – Wet Waste or Rendisk Circular.
A UNIQUE VACUUM DISPOSAL SYSTEM
The organic waste can be transported up to 240 metres from the waste station(s) to the dewatering unit. After being transported the organic waste is dehydrated using a special centrifugal technique. As a result, you'll be able to achieve a waste reduction by up to 80% to only a fraction of the original volume. What remains is a dry, odourless pulp. This dry leftover is perfectly suitable for biogas plant, sewage treatment, composting plant, etc. Furthermore the Flex WasteDispo reduces your CO2 emissions dramatically.

EASY TO RETROFIT IN ANY FACILITY
The engineers of Rendisk have succeeded in combining technology in a limited amount of space. The compact storage unit fits in only a 2 m2 space - the size of a double door fridge. So our unique vacuum disposal system is simple and easy to retrofit in any facility. And because the plastic transport pipes have a diameter of only 50 mm the Flex WasteDispo also suits existing facilities. Thanks to the piping system you are also guaranteed hygienic and efficient transportation of your organic waste. The Rendisk Flex WasteDispo improves the performance of every kitchen.
Award winning solution

The Flex WasteDispo is a new generation of kitchen waste vacuum systems which set a standard of efficiency and hygiene within the market. This generation of kitchen waste vacuum systems has already won several awards within the hospitality business. At one of the largest and most coveted catering equipment trade shows, the Gulfood in Dubai, the Rendisk Flex WasteDispo won the "Best Sustainable Catering Equipment Innovation Award 2013".
At the Facility Fair in Den Bosch, the Netherlands, the Rendisk Flex WasteDispo was rewarded with the FGNovelties Award 2013. According to the jury of the FGNovelties Award Rendisk won the award because "all criteria were met when it comes to human friendliness, sustainability, hygiene and savings. Furthermore the product is profitable".


So start serving up savings, from the plate to your pocket: the Rendisk Flex Waste Dispo – Dehydrated.

Optimal service and support
We at Rendisk understand better than anyone that your business has the highest priority and should not be interrupted at any time. That's why our service and maintenance are focused on reinforcing and supporting your core business. Rendisk trains and supports its own large Rendisk dealer network extensively, and it has branches in all countries where it operates. In short, Rendisk offers you the security and confidence needed to make the main process run smoothly. So with Rendisk, help is always near if you need it. Look for the dealer of Rendisk solutions in your country on our dealer page.
OUR OTHER SOLUTIONS
If you want to know more about our other food waste solutions, you can go to our page about waste management.
Did you know that we also have solutions for any food waste that occurs in your kitchen? And that we can integrate our food waste solutions into your dishwashing area? Go to our page about dish handling to find out how Rendisk solutions can make your kitchen smarter, more efficient and more sustainable.