Rendisk Food waste solutions


Today's world consists of a consumer society in which much of our food is wasted and lost. According to estimations we spill up to as much as one third of the total global food production. Most of this ends up on landfill or in incinerators. Governments and legislating bodies are increasingly concerned with food waste management. Traditional methods such as maceration to drain and landfill are becoming socially unacceptable.
SOCIALly RESPONSIBLE AND PROFITABLE PROCESSING OF FOOD WASTE
At the same time catering facilities, restaurants, hotels and universities struggle with their waste handling processes. Internal transport is a hassle, expensive and unhygienic with a high risk of contamination. As the costs of food waste disposal continue to increase, companies and businesses want to have the ability to handle their food waste in a socially responsible and economical way.

THE NEXT STEP IN FOOD WASTE SOLUTIONS
This has inspired Rendisk to find structural solutions for handling food waste by developing groundbreaking solutions in waste management. Our award winning food waste solutions are used in many different kinds of businesses. From restaurants to hotels, from hospitals to holiday parks and from universities to warehouses, Rendisk offers solutions. These depend on waste volume, the desired level of automation and sustainability. So for every situation there is a Rendisk food waste solution. None of these solutions requires manual sorting of organic waste and even bones and shells are processed effortlessly as part of the whole.
CLICK ON THE WASTE MANAGEMENT SOLUTIONS BELOW TO FIND OUT MORE AND DISCOVER HOW MUCH YOU CAN SAVE WITH OUR FOOD WASTE SOLUTIONS.
---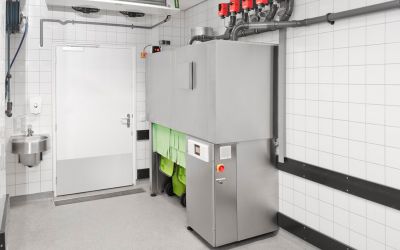 A unique vacuum disposal system for organic kitchen waste that reduces waste by up to 80%. This solution has a capacity of 500 – 2000+ meals a day.
MORE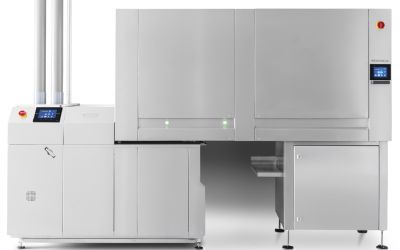 This innovative composter system turns all food waste into fertilizer within 24 hours. This solution has a capacity of 300 – 1000 meals a day.
MORE