Rendisk Solus Eco – STANDALONE WASTE UNIT


Food is a valuable resource and any waste is a poor and expensive use of this resource. More alarming is that some 30 percent of global food production ends up as waste, a shocking figure that calls for proper action. The Rendisk Solus Eco is that proper answer to the call. It's our most compact solution for food waste treatment and can rapidly deal with all kinds of organic food waste. Unique to the Solus Eco is that it's a standalone unit. Thanks to its innovative technique it has an extremely small footprint and therefore fits in any kitchen or garbage room, but still can reduce your food waste massively.
The sustainable and efficient solution for recycling food waste
Smallest footprint: 0,8 m2
Fully automatic cleaning cycle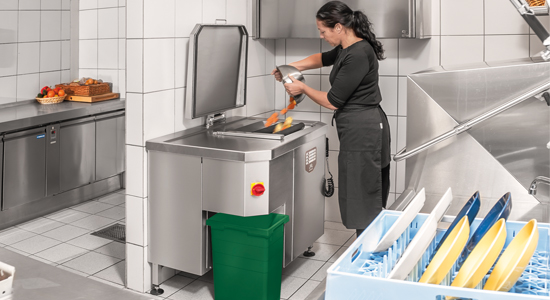 THE MOST SUSTAINABLE WAY TO DISTINGUISH YOURSELF
The Rendisk Solus Eco is a clean and easy to use waste solution for restaurants and business restaurants, universities, hospitals, hotels, maritime areas and locations like holiday and entertainment parks. It's the perfect food waste solution for anyone who believes in sustainability and efficiency. You simply load the food waste into the hopper. It is then ground and dehydrated using a special centrifugal technique. It's due to this technique that the Solus Eco can reduce your food waste by up to 80%, lowering your removal cost dramatically. The Rendisk water management system reduces the water consumption considerably comparing with similar systems. Our smart technology reuses the water in the system allowing for a significant reduction in washed water.

THE EASY ALL-IN-ONE STAND ALONE WASTE UNIT
An innovative cutlery magnet and a special bone cycle comes as standard on the Solus Eco. So you don't need to worry about your cutlery being stuck inside the machine, because the magnet will separate it from the food waste. And thanks to the bone cycle, you can manage food waste which traditionally is not suitable for treatment, such as bones, ribs and lobster shells.

A clean and hygienic solution to manage organic waste
The Solus Eco is a great choice for every kitchen which gives hygiene the highest priority. The advanced automatic cleaning cycle can be activated by a single push of the button at any time, ensuring the unit is perfectly cleaned. An easy to use spraying pistol is also included to clean the outside of the unit.

Handle your food waste with an eye for people, the environment and your profit: the Rendisk Solus Eco.
Optimal service and support
We at Rendisk understand better than anyone that your business has the highest priority and should not be interrupted at any time. That's why our service and maintenance are focused on reinforcing and supporting your core business. Rendisk trains and supports its own large Rendisk dealer network extensively, and it has branches in all countries where it operates. In short, Rendisk offers you the security and confidence needed to make the main process run smoothly. So with Rendisk, help is always near if you need it. Look for the dealer of Rendisk solutions in your country on our dealer page.
OUR OTHER solutions
If you want to know more about our other food waste solutions, you can go to our page about waste management.
Did you know that we also have solutions for any food waste that occurs in your kitchen? And that we can integrate our food waste solutions into your dishwashing area? Go to our page about dish handling to find out how Rendisk solutions can make your kitchen smarter, more efficient and more sustainable.